Article and interview courtesy of Becky Flansburg
One of the co-founders of MCBD, Mia Wenjen, made a comment on a podcast recently that was beautifully accurate. Mia stated that, when it comes to introducing kids to multiculturalism in this world, two of the best ways to do so is through books and food.
The Seattle-based book publisher, Readers to Eaters (R2E) has not only nailed that concept but done so in an urban and modern way. But many of R2E's children's book offerings are not just about diversity, they are about having a food dialogue. Their books strive to not only create a heightened awareness as to where our food comes from in its most natural state, but how what we eat is a focal point in bringing people together.
As one for the original co-founders of the largest diverse children's book publishers in the world, Lee & Low Books, Philip Lee knows books and the importance of getting those books into the hands of young readers. When Lee & Low was founded in 1991 and Philip was the "Lee" in the "Lee & Low" company. After launching this wildly successful company with co-founder Tom Low, Philip left the company in 2004  and later started his own publishing house, Readers to Eaters, with his wife, June Jo Lee, in 2009.
"Good Reads & Good Eats. That's what we're about. Whether publishing, organizing events, or bookselling — we promote conversations about growing, cooking and eating food. Dig in."~Reader to Eaters
Around 2007, Philip and June Jo began noticing that there was a new trend coming to the forefront; the food movement. Books were being published about the U.S's broken food system and Americans were taking notice. In 2009 Michelle Obama launched the White House Garden Project and that's when a need for a "food dialogue" became glaringly obvious to the ambitious publisher.
To this day, Philip and June Jo continue to be committed to helping kids and families have a better understanding of what and how they eat. The business started off as a pop-up bookstore that could be found at farmers' markets and harvest festivals. The Lees also attend many conferences for science and reading teachers, librarians, nutritionists, food activists, and chefs throughout the year.  Together, this dynamic duo also created #FoodHeroes to get kids interested in where food comes from and one of the more prevalent #FoodHeroes is Farmer Will Allen; a former basketball star turned urban farmer and educator.
<>
"Our books are diverse, but diversity is not front-and-center...food is," Philip shared. "Our kids and adult books are less about how to prepare food and more about the culture of bringing people together, creating an experience around food and knowing where our food comes from.  Many people look at diversity via race, we tend to look at it via culture because, to us, culture is so much more specific. People can be part of many different cultures and it is a truer reflection of who they are."
Another modern #FoodHero is CHEF ROY CHOI AND THE STREET FOOD REMIX ; a Korean American chef who gained prominence as the creator of the gourmet LA Korean taco truck, Kogi. He is a chef who is celebrated for "food that isn't fancy" and is known as one of the founders of the gourmet food truck movement.
Roy has earned a stellar reputation for giving Korean and Mexican food a culinary "remix" while also creating jobs in communities. This book has appealed to kids from elementary age to high schoolers in a big way and is also the recipient of the Robert F. Seibert Award Honor Book for Most Distinguished Informational Book 2018 by the Association of Library Services for Children (ALSC), a division of the American Library Association.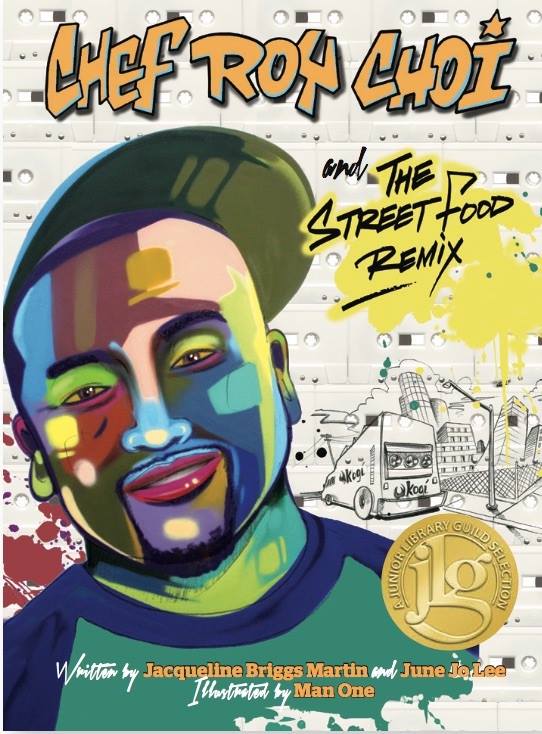 "Since the first of the year, we've traveled to numerous educational conferences and it was especially gratifying to hear from librarians that children in rural Kentucky, Arkansas, and Texas, which are mostly white, are enjoying CHEF ROY CHOI's story about a Korean American chef in urban LA serving Korean BBQ on a taco truck," Philip noted. "I'm so glad that our food story can introduce children to new cultures and the immigrant experience. Last month NPR also mentioned Readers to Eaters in Children's Publishing House Takes Food Literacy Literally. We're so glad that our mission to promote food literacy is getting recognized."
R2E's books do include the idea of food prep and harvest, but these unique books embrace immigration, social justice, food literacy, self-identification and exploring the traditions behind food. Food can be so much more than a meal as well. Food supports community building and bringing people together.
"Our mission is to tell the cultural story of American through food and amazing books for readers of all ages."~ Philip Lee
To learn more about Readers to Eaters, visit their website.