If you feel like you are shouting into the void when it comes to marketing your multicultural children's or YA book, we have an idea that just may be the ticket!
Book launches and special author events are a great marketing tool and an excellent time to gain the visibility that is critical to driving traffic and selling books. That's why MCBD is offering a limited-time chance for publishers and authors to leverage the buzz and reach of our site and social media for their own campaigns.
Our highly successful online event garners HUGE social media share impressions from January 25 through January 27th and the buzz continues all year-long. We also love any opportunity to support diverse book authors while also keeping interesting book-related information in front of our social following and loyal readership.
With that in mind, we've created our new Multicultural Children's Book Day Sponsored Post Package as a way to leverage our robust 260,000 strong social media following and give authors and books the boost they need.
Intrigued? We hope so! Our Sponsored Post option is only available Feb-September so don't delay. You can find examples of Sponsored Post that we've recently completed here …
…and here. Good stuff 🙂
Want to Get Started?
To begin collaboration with Multicultural Children's Book Day, please contact Becky (at) MulticulturalChildrensBookDay (dot)  com or visit the MCBD site HERE to get the full scoop on this clever marketing option.
Hope to hear from you soon and don't hesitate to ask if you have any questions 🙂
Fundraising/ Sponsored Post Services
Support our cause and help us get free diverse books into the hands of teachers! GoodWorld.com has helped us set up a new fundraising option and it's Easy Peasey Lemon-Squeezey!
A $10 donation will help us get 2 books in the mail for 2 teachers, a $25 will help us get 5 books out…and so forth. GoodWorld will also provide you with a receipt for taxes purposes too. Cool, eh? Every little bit helps!
Go here, click DONATE on the right sidebar, and select an amount you are comfortable with. OR click the lovely red Good World Donate button below. Thank You!
Article and interview courtesy of Becky Flansburg
One of the co-founders of MCBD, Mia Wenjen, made a comment on a podcast recently that was beautifully accurate. Mia stated that, when it comes to introducing kids to multiculturalism in this world, two of the best ways to do so is through books and food.
The Seattle-based book publisher, Readers to Eaters (R2E) has not only nailed that concept but done so in an urban and modern way. But many of R2E's children's book offerings are not just about diversity, they are about having a food dialogue. Their books strive to not only create a heightened awareness as to where our food comes from in its most natural state, but how what we eat is a focal point in bringing people together.
As one for the original co-founders of the largest diverse children's book publishers in the world, Lee & Low Books, Philip Lee knows books and the importance of getting those books into the hands of young readers. When Lee & Low was founded in 1991 and Philip was the "Lee" in the "Lee & Low" company. After launching this wildly successful company with co-founder Tom Low, Philip left the company in 2004  and later started his own publishing house, Readers to Eaters, with his wife, June Jo Lee, in 2009.
"Good Reads & Good Eats. That's what we're about. Whether publishing, organizing events, or bookselling — we promote conversations about growing, cooking and eating food. Dig in."~Reader to Eaters
Around 2007, Philip and June Jo began noticing that there was a new trend coming to the forefront; the food movement. Books were being published about the U.S's broken food system and Americans were taking notice. In 2009 Michelle Obama launched the White House Garden Project and that's when a need for a "food dialogue" became glaringly obvious to the ambitious publisher.
To this day, Philip and June Jo continue to be committed to helping kids and families have a better understanding of what and how they eat. The business started off as a pop-up bookstore that could be found at farmers' markets and harvest festivals. The Lees also attend many conferences for science and reading teachers, librarians, nutritionists, food activists, and chefs throughout the year.  Together, this dynamic duo also created #FoodHeroes to get kids interested in where food comes from and one of the more prevalent #FoodHeroes is Farmer Will Allen; a former basketball star turned urban farmer and educator.
"Our books are diverse, but diversity is not front-and-center...food is," Philip shared. "Our kids and adult books are less about how to prepare food and more about the culture of bringing people together, creating an experience around food and knowing where our food comes from.  Many people look at diversity via race, we tend to look at it via culture because, to us, culture is so much more specific. People can be part of many different cultures and it is a truer reflection of who they are."
Another modern #FoodHero is CHEF ROY CHOI AND THE STREET FOOD REMIX ; a Korean American chef who gained prominence as the creator of the gourmet LA Korean taco truck, Kogi. He is a chef who is celebrated for "food that isn't fancy" and is known as one of the founders of the gourmet food truck movement.
Roy has earned a stellar reputation for giving Korean and Mexican food a culinary "remix" while also creating jobs in communities. This book has appealed to kids from elementary age to high schoolers in a big way and is also the recipient of the Robert F. Seibert Award Honor Book for Most Distinguished Informational Book 2018 by the Association of Library Services for Children (ALSC), a division of the American Library Association.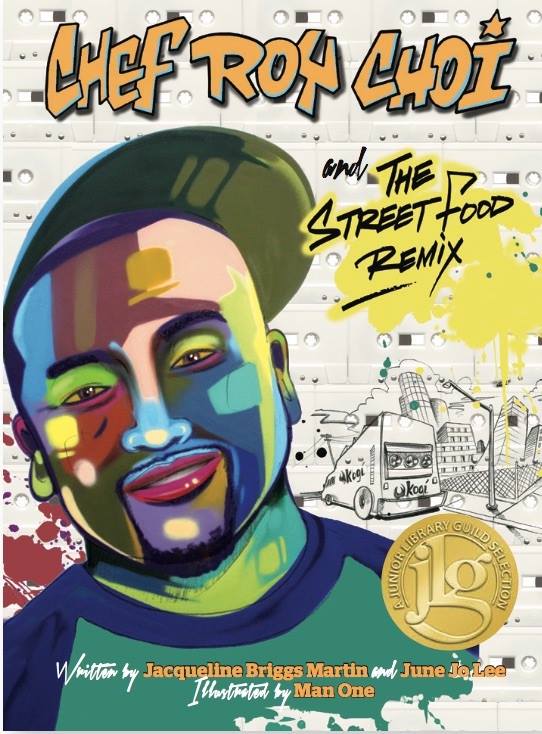 "Since the first of the year, we've traveled to numerous educational conferences and it was especially gratifying to hear from librarians that children in rural Kentucky, Arkansas, and Texas, which are mostly white, are enjoying CHEF ROY CHOI's story about a Korean American chef in urban LA serving Korean BBQ on a taco truck," Philip noted. "I'm so glad that our food story can introduce children to new cultures and the immigrant experience. Last month NPR also mentioned Readers to Eaters in Children's Publishing House Takes Food Literacy Literally. We're so glad that our mission to promote food literacy is getting recognized."
R2E's books do include the idea of food prep and harvest, but these unique books embrace immigration, social justice, food literacy, self-identification and exploring the traditions behind food. Food can be so much more than a meal as well. Food supports community building and bringing people together.
"Our mission is to tell the cultural story of American through food and amazing books for readers of all ages."~ Philip Lee
To learn more about Readers to Eaters, visit their website.
(Guest post by Becky Flansburg; Project Manager for MCBD)
Not long ago, I had the absolute pleasure of interviewing publisher, Philip Lee. As one of the former founders of Lee & Low Books, Philip left the company in 2004  to create his own publishing house, Readers to Eaters, in 2009. It was Philip that clued me in on a big milestone for Lee & Low Books that I felt really needed to be shouted from the rooftops. Lee & Low Books has always had a passion and commitment to diversity in children's literature and publishing exec, Jason Low, spent some time with us to share his thoughts on diversity and a very exciting milestone for one particular Lee & Low book.
Lee & Low Book's connection to Multicultural Children's Book Day began way back when MCBD first began. Our non-profit has always been in awe of this diverse children's book publisher's passion and commitment to children's literature.
Lee & Low Books is the largest multicultural children's book publisher in the country, and one of the few minority-owned publishing companies in the United States. They offer books for all young readers, from leveled books for beginning readers through middle grade and young adult novels. They also publish several bilingual books, as well as books in other languages. Their books reflect the diversity and richness of the United States. LEE & LOW BOOKS is more than just a publisher: it is a leader in the movement for more diversity in literature.
The Exciting News
The "milestone" that I discovered was impending was the 25th anniversary of Lee & Low's very first published book, Baseball Saved Us. 
The 25th anniversary of anything is a big deal, but it's even bigger when it's a company connected to a shared mission and vision. Thrilled and excited, I reached out to my connection at Lee & Low who in turn put me in touch with exec, Jason Low. Jason generously agreed to share his thoughts on the 25th Anniversary of Baseball Saved Us, some points of pride with his company and also his thoughts on the advancement of diversity in children's literature. Enjoy!
Q & A With Lee & Low Books' Jason Low
Becky: Walk me briefly through Lee & Low's timeline and what year you came on board.
JL: I joined the company in 1997. I was employee #6. By then, Lee & Low Books had established itself as a promising small publisher of quality multicultural books. At the time, one of Lee & Low's biggest challenges was finding diverse authors and illustrators and developing stories. Many of the limitations we faced back then mainly had to do with size, or lack thereof. Everyone wore many hats. As a result, we struggled to cover the basics like keeping publication dates and sending out review copies on time. The early years were an exciting time too! The lack of resources forced us to prioritize and innovate. Working with a modest budget required us to come up with creative solutions and guerrilla marketing techniques. There is no better way to learn how to run a business than to work for a startup.
Becky: This month is the 25th anniversary of Lee & Low's release of their very first book, Baseball Saved Us. What does this milestone mean to you personally? To the company? 
JL: Baseball Saved Us will always symbolize for us how it all began. The book broke new ground by making the incarceration of Japanese Americans during World War II personnel. It is an underdog story set in an era of overt racism, seen through the clear-eyed innocence of a child, with America's favorite pastime acting as a backdrop. Baseball Saved Us set the bar for us editorially, and as the years advanced, our instincts developed further, telling us what other stories still needed to be told. Our focus on ethnicity eventually widened to include other marginalized groups like LGBT and people with disabilities. "About everyone ~ For everyone" became our motto. As the business matures, we remember everything, from the highs to the lean years we had to endure. These memories give us an appreciation for where we are today. The early years taught us how to get by with less, but now that we have the means to do more for our books, it is an exciting time.
Becky: Was there any specific reason this book was chosen to be Lee & Low's first offering?
JL: New publishers are typically focused on finding great manuscripts and publishing them as soon as possible. The chicken-and-egg model would apply here—no books = no sales. This hand-to-mouth kind of publishing persisted for a number of years. In the beginning, there was no master plan. Baseball Saved Us was one of three books ready for release in our debut year.
Becky: Do you have something special in mind to celebrate/recognize this milestone?
JL: We are working on a 25th Anniversary edition of Baseball Saved Us to commemorate this milestone. It will be released in Fall 2018.
Becky: Lee & Low has such an amazing reputation for producing impactful and quality books for readers. This is a tall order, but can you pinpoint 3-5 books that Lee & Low has published that you feel really made an impact on readers?
JL: Aside from Baseball Saved Us? I'd go with:
Yummy: The Last Days of a Southside Shorty
By G. Neri
Illustrated by Randy DuBurke
https://www.leeandlow.com/books/yummy
Marisol McDonald Doesn't Match
By Monica Brown
Illustrated by Sara Palacios
https://www.leeandlow.com/books/marisol-mcdonald-doesn-t-match-marisol-mcdonald-no-combina
Seeds of Change: Planting a Path to Peace
By Jen Johnson
Illustrated by Sonia Sadler
https://www.leeandlow.com/books/seeds-of-change
By Guadalupe Garcia McCall
https://www.leeandlow.com/books/summer-of-the-mariposas
By Tony Medina
Illustrated by Stacey Robinson, John Jennings
https://www.leeandlow.com/books/i-am-alfonso-jones
*Note: I Am Alfonso Jones is a new graphic novel, so it remains to be seen what long-term impact this book will have on readers. However, the book has already been included on lists like the New York Public Library's Best Books for Teens and the Top Ten Great Graphic Novels for Teens from the American Library Association (ALA), so we believe it is destined to go far.
Becky: Back in 2015, Lee & Low did a study on the Diversity Gap that showed that, despite census data that shows 37% of the US population consists of people of color, only 10% of children's books published have diversity content. Do you feel these stats have shifted over the last 3 years? 
JL: Yes and no. See our reactions and thoughts here: http://blog.leeandlow.com/2017/03/30/the-diversity-gap-in-childrens-book-publishing-2017/
Becky: If you could let readers know ONE THING about Lee & Low, what would that one thing be?
JL: If you are searching for authentic, quality, diverse books with plenty of heart, Lee & Low Books is the publisher for you. Pass it on.
Jason Low is the publisher and a co-owner of LEE & LOW BOOKS, the largest multicultural children's book publisher in the United States. Jason has spoken at national conferences like American Library Association and Texas Library Association. He has presented at universities such as Princeton, Pratt, and NYU about the importance of inclusion in children's books. In addition to publishing award-winning books, the company initiated a series of Diversity Gap Studies, which revealed a lack of representation across industries like film, television, and theater. Lee & Low also spearheaded the first Diversity Baseline Survey to measure diversity in publishing staff, the results of which have become an often referred to benchmark by academics and major media alike. In 2016, the Eric Carle Museum selected Lee & Low as the recipient of its Angel Award for the company's dedication to artists and authors who offer children both mirrors and windows to the world.
SO..what in the world is "On My Desk" anyway?
This series got started because, with my role as Project Manager, I get to enjoy the avalanche of amazing multicultural books for kids that are donated to our project.  A good chunk of the year my office looks like a small bookstore and I love every second of it.
Even though MCBD2018 is over I am still getting amazing books every weeBeing appreciative of every book that crosses my desk, I wanted to find a fun way to share those books with the loyal folks who show up here to read every week and support this non-profit. In that moment, On My Desk | New Diverse Kids' Books to Consider was born! It's my way of sharing some amazing titles that don't always get the attention they deserve.
Here's what the Mailman Book Fairy brought me this week:
On My Desk | More Great Diverse Books for Kids
Grandfather Thunder and the Night Horses by Christine Almstrom
When a young girl is frightened of a storm, her grandmother comforts her by telling the story of the Night Horses – a creature Grandfather Thunder made from his own heart to wake the earth and bring the rains to the people. Based on the Lakota legend of the Thunder Horse, "Grandfather Thunder & the Night Horses," is translated through permission of the tribal elders of the Pine Ridge Reservation and the Thunder Valley Lakota Language Initiative in Pine Ridge, South Dakota.
Talk With Me: The Big Book of Exclamations 2 by Teri Kaminiski-Peterson, M.S.C.C.C./SLP
The author's first book, The Big Book of Exclamations, was written with the goal of being an educational children's book designed to promote speech sound development.  Talk With Me: The Big Book of Exclamations 2  is the second in a series of educational children's books. Created by a pediatric speech-language pathologist, our books are filled with carefully designed illustrations which immerse infants and toddlers in the rich language that surrounds in their familiar environments and daily routines. The books are designed to promote speech sound development and imitation of gestures, sounds, and words. Unlike most books, it doesn't have a story to read. Instead, across the bottom of each page, there are prompts which teach parents/educators how to act out the illustrations and interact using gestures, sounds, words, or phrases depending on their child's ability. The book shows parents how to modify what they say about each illustration in order to maximize their child's communication potential. It is also filled with information which helps parents understand speech.
Midnight Teacher: Lilly Ann Granderson and Her Secret School by Janet Halfmann
Lilly Ann learned to read and write from her master's children in Kentucky. She shared her knowledge with other enslaved people in a hidden spot in the woods on Sundays when the family was away. Later, she was sold to Mississippi, where teaching others carried a punishment of thirty-nine lashes with a whip. To keep from being found out, Lilly Ann taught in a secluded cabin off a back alley from midnight until two in the morning. Over the years she taught hundreds of enslaved people, and they, in turn, shared their knowledge with others. Read the author's guest post and book review on JumpIntoAbook.com.
Tolerance Tykes by Brooke Aiello
Tolerance Tykes was created to promote to inclusivity of children from all walks of life. This new series will focus on breaking down the walls of intolerance that stand in the way of a more compassionate world for our children to grow in. The purpose of this book is to instill the message that all children are beautiful and important just the way they are.Each book in the series will provide a look into the lives of ten children. Through bright illustrations, fun facts, and poetry the reader will get a sense of what it is like to walk in that person's shoes for a day. Topics include Gender Identity, Autism, Down syndrome, Hearing Impairment, Blindness, Anxiety, stuttering, Cancer, Adoption and Muscular Dystrophy.
What amazing books have YOU found this week?
One More Thing- Be sure and check out our robust and extensive Diversity Book Lists & Resources for Teachers and Parents!
We've invited all of our classrooms and supporters to celebrate The Big Day anytime during 1/22 and 1/27 and we've already had some educators and organizations share their ReadYourWorld fun here. The buzz around this event is mind-blowing and we felt compelled to share even more fun images and examples of educators using #Readyourworld to educate Global Citizens:
Sarah Fisk from the Orange County (Orlando) Library System reached out to use in September to share their plans for Local Author Festivals in honor of Multicultural Children's Book Day! The library had a signing-only author festival with 6 Florida authors from 2 to 4 pm. They also had Crystal Sullivan, the library's lead storyteller, do a mini storytime for children at 2 and 3pm.
Amazing lesson for Multicultural Children's Book Day!! The book 10 Gulab Jamuns and the sweet treat made with @CampbellOutside were a huge hit with our class! Many thanks to author @SAcharya7 for sharing the book with us! #ReadYourWorld @CampbellAPS @APSVirginia pic.twitter.com/f8MrNsKHtp

— Jessica Berg (@MsBergsClass) January 25, 2018
Celebrating Multicultural Children's Book Day! #MCBD2018 @MCChildsBookDay @JumpIntoABook1 pic.twitter.com/hXgTlVRBIG

— Mrs. R.'s Class (@rlsmrsrclass121) January 26, 2018
@KensingtonES_NC is ready for MCBW in the media center! Check out one of these books to travel the world!!! @AGHoulihan @rachelnclarke #MCBD2018 #Literacy4U #ReadYourWorld #UCPSLibraryLife pic.twitter.com/C5vqzerdgv

— Bryan McKenzie (@McKeduc8or) January 24, 2018
Here are some of our #picturebook recommendations from today! @MCChildsBookDay #ReadYourWorld #books #read #jesvt #cesuvt pic.twitter.com/OSsnl3doRe

— aimee randall (@teachvt) January 26, 2018
Celebrated Multicultural Children's Book Day #ReadYourWorld #DiverseBooks #NoxonHeroes #MulticulturalChildrensBookDay pic.twitter.com/wK2G8PBmUy

— Melissa Tirado (@MrsTiradoENL) January 25, 2018
Book 2 for #MCBD2018! We read the Water Princess and talked about what we can do to change the world ❤ 🌍 @McKeduc8or @rachelnclarke @AGHoulihan #ReadYourWorld #UCPSLibraryLife #Literacy4U pic.twitter.com/kv7T1HIgvZ

— Felicia Moore (@Moore1stGrade) January 25, 2018
To celebrate #ReadYourWorld at @CannadayMISD today, teachers schoolwide are sharing a Multicultural Children's Book. Cannaday teachers to enter our classroom book giveaway remember to post a pic of your readaloud w/ #ReadYourWorld & tag me!Thank you @MCChildsBookDay for the swag! pic.twitter.com/c9BhrjInrA

— Ro Menendez (@romenendez14) January 26, 2018
Book 1 for #MCBD2018– we don't judge by our outside appearances! Made personal hashtags for ourselves & wrote postcards to friends telling them what we think about them using inside traits. @McKeduc8or @AGHoulihan @rachelnclarke #Literacy4U #UCPSLibraryLife #ReadYourWorld pic.twitter.com/qvgq6cKkrQ

— Felicia Moore (@Moore1stGrade) January 24, 2018
Home display of books set in Central and South America #ReadYourWorld #MulticulturalChildrensBookDay pic.twitter.com/1mtiNrsDfh

— Vivian Harris (@vivianharris45) January 26, 2018
Happy #MCchildrensbookday #ReadYourWorld @KNAAN you rock! Music+books=fun #jesvt #cesuvt #vted #read #books @MulticulturKids pic.twitter.com/97dS7Au8fu

— aimee randall (@teachvt) January 26, 2018
"Book tasting" with Books representing multiple cultures around the world with 3rd grdrs @Hillside_Eagles #GISDLibraries #ReadYourWorld pic.twitter.com/FWVtlrNV0B

— Joni Harris (@Jharrisreads) January 25, 2018