There's no better feeling than seeing a reluctant reader (or any reader for that fact!) deeply immersed in the adventure-filled pages of a chapter book.
Books take a reader to places they can only dream about; places where they could find new friends, learn new cultures, and "see" themselves within the pages.  Introducing children to chapter books at an early age can nurture a love of reading and help children on the road to becoming avid readers. Here are some great Multicultural Chapter Books Worth Checking Out!
Multicultural Chapter Books
Dragon Pearl by Yoon Ha Lee
Steeped in suspense and Korean mythology, Dragon Pearl will delight Rick Riordan fans. Did you know that, in Korean Folklore, ghosts are known to bring bad luck wherever they go? Did you know that, in Korean folklore, Shamans act as the bridge between the human world and restless spirits?
Rick Riordan Presents Yoon Ha Lee's space opera about thirteen-year-old Min, who comes from a long line of fox spirits. But you'd never know it by looking at her. To keep the family safe, Min's mother insists that none of them use any fox-magic, such as Charm or shape-shifting. They must appear human at all times.
Min feels hemmed in by the household rules and resents the endless chores, the cousins who crowd her, and the aunties who judge her. She would like nothing more than to escape Jinju, her neglected, dust-ridden, an impoverished planet. She's counting the days until she can follow her older brother, Jun, into the Space Forces and see more of the Thousand Worlds.
When word arrives that Jun is suspected of leaving his post to go in search of the Dragon Pearl, Min knows that something is wrong. Jun would never desert his battle cruiser, even for a mystical object rumored to have tremendous power. She decides to run away to find him and clear his name.
Min's quest will have her meeting gamblers, pirates, and vengeful ghosts. It will involve deception, lies, and sabotage. She will be forced to use more fox-magic than ever before, and to rely on all of her cleverness and bravery. The outcome may not be what she had hoped, but it has the potential to exceed her wildest dreams. This sci-fi adventure with the underpinnings of Korean mythology will transport you to a world far beyond your imagination.
One Half from the East by Nadia Hasimi
A poignant story of a young girl trapped by a tradition that has her straddling illusion and reality. It gives the reader some insight into the practice of baccha posh and makes for an interesting dialogue about gender role and expectations in different societies. [chapter book, ages 8-12]
Ash Mistry And The Savage Fortress by Sarwat Chaddha
I've always loved mythology, and I want my own books to have a resonant mythic basis, so I enjoy reading writers who find fresh ways to bring ancient myth to life.  That's what Sarwat Chaddha does in Ash Mistry: a book that fuses Hindu mythology with the dynamics of videogames, action movies, and comics to tell a rollercoaster of an adventure story. [chapter book, ages 10 and up]
Ask My Mood Ring How I Feel by Diana Lopez
It's summer before eighth grade, and Erica "Chia" Montenegro is feeling so many things that she needs a mood ring to keep track of her emotions. She's happy when she hangs out with her best friends, the Robins. She's jealous that her genius little sister skipped two grades. And she's passionate about the crushes on her Boyfriend Wishlist. And when Erica's mom is diagnosed with breast cancer, she feels worried and doesn't know what she can do to help.
When her family visits a cuarto de milagros, a miracle room in a famous church, Erica decides to make a promesa to God in exchange for her mom's health. As her mom gets sicker, Erica quickly learns that juggling family, friends, school, and fulfilling a promesa is stressful, but with a little bit of hope and a lot of love, she just might be able to figure it out.
Words in the Dust by Trent Reedy
Inspired by true events in a post-Taliban Afghanistan during the reconstruction years the book offers an unbiased view of a slice of life in a country ravaged by war and beset by hard and fast traditions.  It is an uplifting story of a courageous young girl who finds empowerment in the midst of daunting odds. [chapter book, ages 10-14]
Joy Sun Bear has been delighting and teaching young fans and parents about diverse cultures for years. But now this inquisitive young bear is embarking on a new kind of adventure; the star in a children's book!  The Adventures of Joy Sun Bear: The Blue Amber of Sumatra is going to be the first in a children's chapter book series, about a little sun bear's magical adventure around the world!
Through a wide selection of resources, and a cast of characters kids can relate to, parents and educators alike can explore the world with their kids and develop their global awareness with love and respect.
Join their Global Community Forum to connect and collaborate with parents and educators around the world!
See how to use our Global Education Resources (geography, country facts, coloring activities, crafts, recipes, videos and more!) at home or in your classroom.
The Curse of the Were-Hyena by Bruce Hale
I've been a Bruce Hale fan since last year when I read School for Spies. "Mr. Chu, the coolest teacher ever, has developed some very unusual habits, like laughing hysterically for no reason, sniffing people's homework, and chasing chickens. When best friends Carlos and Benny decide to find out what's happening to him, they get caught up in some moonlight madness. And it looks like just the beginning of the weirdness that has arrived in the town of Monterrosa. . . . This first entry in a silly, sassy, and suspenseful new series will leave readers howling with laughter."
Time Tracers-The Stolen Summer is a diverse chapter book with a fun, lighthearted, easy-reading-flow. We were hooked from the first page when the author conveys the teen agony of having to sit through the final 10 minutes of 7th grade.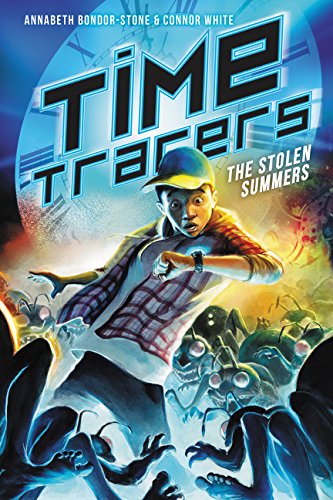 Once free from the school's clutches (their words, not ours) Taj, Jen and Lucas launched into an intense and detailed plan of how they are going to spend every waking moment of summer and their plans will make you chuckle out loud. But then it happens…time disappears and all three find themselves sitting on the school bus again for the first day of school. They've been robbed. Robbed of summer and only the mysterious man in the grey suit can help get it back.
Who's Ju by Dania Ramos:
Justina (Ju) loves mystery movies and books and is the head of a special club called the Seventh Grade Sleuths, involved in solving small mysteries at school. When Justina and her crew are hired to find out who has been vandalizing the sets of the school play, Ju never expects that she would wind up steeped in a deeper and more important mystery concerning her own identity. At school, the seventh graders have been assigned a genetics project to research their family history. This project causes grief for her parents who do not want her to complete it.
Determined not to get a bad grade, Justina continues her research only to discover that her parents have been hiding something about her past. Ramos has created an excellent, fully developed heroine. The tween does not look like any of her family members and is faced with questions about her own identity and where she fits in. Fans of Nancy Drew or "39 Clues" (Scholastic) who are looking for something new will enjoy this multi-layered tale.
What Multicultural Chapter Books recommends do you have?
---
4 Ways to Get Involved in MCBD as an Author or Publisher
Donate Books:Diverse kids' or YA books donated to the MCBD cause are used a variety of ways including donation to the over 2,000 classrooms waiting for a free diverse book from MCBD, as books given to reviewers during the event, or as prizes for their wildly popular (and much-anticipated) Twitter Party on January 25th.
Go here to learn how you can donate brand new diverse books to the cause: http://bit.ly/2zx1YjX
Multiple options for Sponsorship:Sponsorship is not only a great way to support this event; it is an excellent way to get your name (and your books) in front of thousands of readers. All of our Sponsors get a name mention within the hundreds of reviews that get posted from December to January 25th and also on the sites of our 26 CoHosts and Global CoHost sites. Go here to learn more about MCBD2019 Sponsorship: http://bit.ly/2TXuh3x
Connect with Multicultural Children's Book Day on social media and share, share, share!NOTE: Their official hashtag is #ReadYourWorld
– Facebook page https://www.facebook.com/MulticulturalChildrensBookDay
– Twitter https://twitter.com/MCChildsBookDay
-Instagram https://www.instagram.com/readyourworldmcbd/
Guest post:The MCBD Team is always looking for quality diverse children's book-related guest posts on their blog. Authors and publishers are invited to share the story of their writing journey or their thoughts on the importance of diversity in children's literature.
4 Ways to Get Involved as an Educator or Librarian
Throughout the months of November-January, leading up to the celebratory day, educators, librarians and parents can start planning and preparing with FREE activities available today at www.multiculturalchildrensbookday.com
FREE Classroom "Empathy" Kit:  The free Classroom Empathy Kit focuses on empathy and compassion through shared booklists and special home or classroom activities. The kit includes 18 book recommends on the topic of Understanding Immigration and Refugees, Classroom Empathy Activities, and a very special custom printable Empathy Poster courtesy of author/illustrator Juana MedinaEducators, parents and librarians can sign-up to receive the free classroom kit here: http://bit.ly/2BGu4uQ
FREE Poverty Doesn't Discriminate: Understanding Poverty in America Classroom Kit:  Created in 2018, this free classroom kit includes over 2 dozen poverty in the U.S.-themed book recommends for ages 4-12, two classroom or home activities, and a copy of the official "Poverty Doesn't Discriminate" Classroom Poster thanks to the talents of award-winning illustrator, Mehrdokht Amini. http://bit.ly/2P6cXWE
Free Diversity Book Lists and Activities for Teachers and Parents: Curated lists of books about diverse topics including: countries, religions, holidays, ethnicities, in addition to special needs and LGBTQ. http://bit.ly/1kGZrta
SHARE HOW YOU ARE CELEBRATING: Enter your reading event on the new Online Classroom Event Coordinator to make sure your classroom gets materials they need (bookmarks, pencils, stickers).  Teachers who host a celebration in the classroom can send in a picture of their party to receive 3 free diverse books and a swag pack as a thank you.  Teachers and librarians can enter their event info HERE (https://multiculturalchildrensbookday.com/category/offline-classroomlibrary-event-project/)
Don't forget to connect with  Multicultural Children's Book Day on social media and be sure and look for/use their official hashtag #ReadYourWorld.