On My Desk | New Diverse Kids' Books to Consider
Friday the 13th my butt! There's nothing bad about a Friday, especially one filled with BOOKS.
A few weeks ago I shared that, because of my role as Project Manager, I get to enjoy the motherlode of amazing multicultural books for kids that are donated to our project.  And as a result, I wanted to find a fun way to share those books with the loyal folks who show up here to read every week and support this non-profit. I shared another batch of dandy diverse books for kids last week as well including a new graphic novel with a science theme that made my reluctant reader daughter positively GIDDY.
As the prep for MCBD2018 gets into full swing, I'd like to do something fun and different simply because so many of these books deserve as much visibility as we can offer. With that in mind, I'd like to start something new called On My Desk as a way to share some of the notable multicultural books for kids that cross my desk every week.  Here's what the Mailman Book Fairy brought me this week in the way of New Diverse Kids' Books to Consider:
Alphabet Oddities is a different kind of kid's book. If your readers love fun, funky and different, they will enjoy this books. It's poetry about a biracial girl who loves science, dreams of time traveling, and makes up funny stories about creatures like Vocabulary vampires who chomp on Marika's favorite words and ruin her sentences. A yeti who dreams of being famous even though no one believes he exists and much more. Author Jennifer Joseph is also an Author Sponsor this year and I am excited to show her books to readers and reviewers. This book is recommended as both a read aloud and for kids old enough to read on their own.
I have to admit when I saw, then read ABC, Adoption & Me by Gayle H. Swift and Casey A. Swift, I got teary-eyed Why? because I am an adoptive mommy!
When I asked author Gayle Swift about why she created this sweet book, she had this to say:
As adoptees, our children wrestle with big feelings, challenging issues and complex relationships. As parents. it is our privilege to walk a lifetime with them, supporting them through their journey to integrate dual heritages through birth and adoption. ABC, Adoption & Me provides an easy way to converse about adoption so that kids know their questions and concerns are welcome. It plants the seeds of open dialog and introduces some of the hard stuff in a way that is gentle and can lead to deeper discussions as children mature. As an adoption coach, I know that kids usually assume the "hard stuff" is off-limits unless parents demonstrate through words and actions, that parents are strong enough to acknowledge and validate all of their children's thoughts and feelings on adoption. A book like ABC, Adoption & Me speaks from the child's perspective; kids tell us that normalizes their emotions and thoughts.
You can read the full book review and interview I did with Gayle
HERE.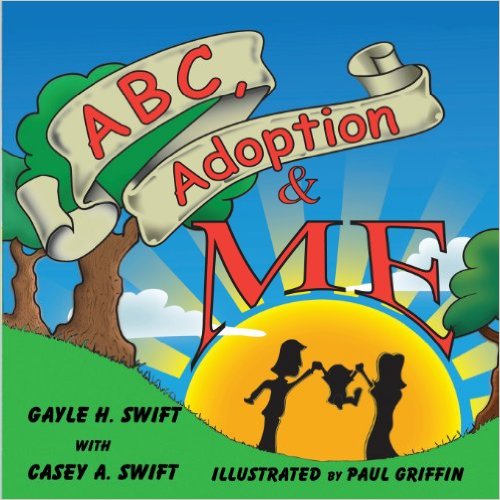 Like Vanessa
by Tami Charles was graciously sent to us by Charlesbridge Publishing. I have not read this book yet. but I will. "Vanessa Martin celebrates when the first Miss America, Vanessa Williams, is crowned. thirteen-year-old Vanessa ha big dreams too but struggles with family problems, self-confidence issues, racism and friendships in 1983 in Newark, NJ.
This books is a hopeful story about the risks and rewards of following your dreams. Good stuff.
Baby Loves Aerospace Engineering!
by Ruth Spiro: A board book for mini-scientists-to-be! Accurate enough to satisfy an expert, yet simple enough for baby, this book explores the basics of flight – from birds, to planes and rockets – and ties it all to baby's world. Beautiful, visually stimulating illustrations complement age-appropriate language to encourage baby's sense of wonder. Parents and caregivers may learn a thing or two, as well!
Hands Around the Library by Karen Leggett Abouraya: Karen has been a strong supporter of MCBD and we are honored that she is once again back as an Author Sponsor for 2018! Hands Around the Library: Protecting Egypt's Treasured Books is available in English and Arabic and is for readers 3rd-5th grade. The inspiring true story of demonstrators standing up for the love of a library.  In January 2011, in a moment that captured the hearts of people all over the world, thousands of Egypt's students, library workers, and demonstrators surrounded the great Library of Alexandria and joined hands, forming a human chain to protect the building. They chanted "We love you, Egypt!" as they stood together for the freedom the library represented. 
What will I be sharing next time? Pop back next Friday and see for yourself!
MCBD2018 Event Details
As you may know, Multicultural Children's Book Day (MCCBD) is a non-profit that works with authors to get their books reviewed during our online event and also works to get free diversity children's books into the hands of young readers.
The online event/holiday takes place every January 27th and we are now in our 5th year. Because the event falls on a Saturday this year, we are encouraging parents, teachers and librarians to "party" the week leading up to the big day (1/22-1/27/18) and we expect many classrooms will be celebrating on Friday the 26th.
Resources to Bring your Multicultural Children's Book Day Event to Life
MCBD site: https://multiculturalchildrensbookday.com/
Free Multicultural Books for Teachers: http://bit.ly/1kGZrta
Free Classroom Empathy Kit for Homeschoolers, Organizations, Librarians and Educators: https://multiculturalchildrensbookday.com/mcbd2018s-free-classroom-empathy-kit-is-here-empathy-immigration/
Free Kindness Classroom Kit for Homeschoolers, Organizations, Librarians and Educators: https://multiculturalchildrensbookday.com/teachers-classroom-kindness-kit/
Free Diversity Book Lists and Activities for Teachers and Parents: http://bit.ly/1sZ5s8i
Hashtag: Don't forget to connect with is on social media and be sure and look for/use their official hashtag #ReadYourWorld.
Connect with us on social media and share, share, share!
– Facebook page https://www.facebook.com/MulticulturalChildrensBookDay
– Twitter https://twitter.com/MCChildsBookDay
-Instagram https://www.instagram.com/readyourworldmcbd/
-Reminder: The hashtag for this event is #ReadYourWorld

Thank you so much for your support!