In honor of our seventh Multicultural Children's Book Day, we are increasing our Twitter Party Book Bundles prizes from five to SEVEN books!
More books, more diverse KidLit discussions, and more FUN!
Please join us Friday, January 31st
9 pm-10 pm EST
Use hashtag #ReadYourWorld to find the party
We will be giving away 14 book bundles plus 5 book bags from Capstone Publishing! In fact, we will be giving away one book bundle every five minutes In Real-Time! We will announce each winner as each question closes out.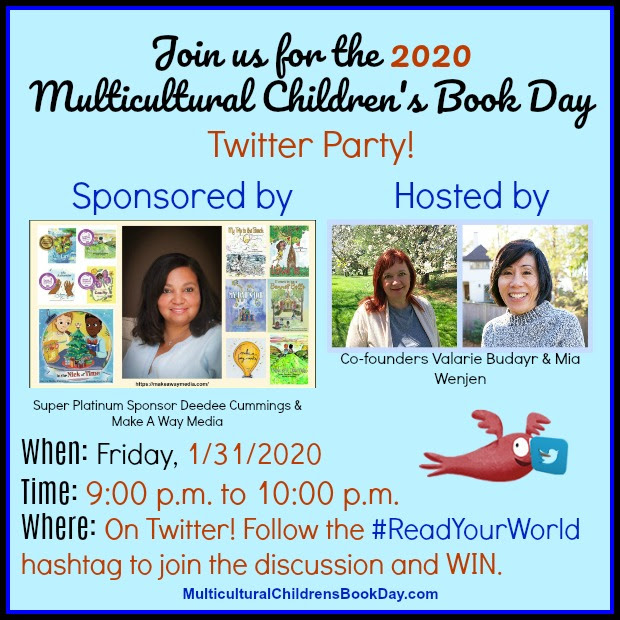 BUT WAIT….there's more prizes to add this already robust lineup!
#1-The Last Cherry Blossom by Kathleen Burkinshaw Swag Pack!
Includes a signed copy of TLCB, TLCB tote bag, embroidered cherry blossom patch, TLCB stickers, TLCB magnet, cherry blossom stamp, cherry blossom fan, cherry blossom origami paper, and a half-hour complimentary Skype visit (there will be a couple of surprise items as well)
Kathleen is the author of the critically-acclaimed
The Last Cherry Blossom
 – 
A United Nations Office of Disarmament Education Resource for Teachers and Students
"Told with reverence and authenticity, Yuriko's journey is inspired by the author's mother's real-life experiences growing up in Hiroshima and surviving that tragic day on Aug. 6, 1945. Tragedy and hope collide in this promising middle-grade debut"- Kirkus Review
#2. Not one, but TWO Pack-n-Go Girls 25-book Class packs of their latest early reader chapter book, Mystery of the Naga Night!
Pack-n-Go Girls® Adventures, Mystery of the Naga at Night, author Lisa Travis takes the readers there. In this case, "there" is Thailand, where 9-year-old Jess Johnson travels back to visit with 9-year-old Nong May Wattana. In this second book of the Thailand series, something creeps by Jess's window in a Thai hill tribe village. Whatever it sounds like sounds close enough to touch. The wind blows. Pebbles scatter. A shadow slithers through the moonlight. What is this mysterious creature doing slipping into the jungle every night? Jess and Nong May are determined to find out. 
To ensure that we can reach the winners, we ask for everyone to please register for our Multicultural Children's Book Day Twitter Party.
See the details and the questions for our Twitter party with each prize pack!HERE
Hope to see you there 🙂